Nilesat, Eutelsat 8W, Badr 4/5/6/7 & Es'hail 2, Hot Bird 13E are the popular satellites in the middle east. People love to watch them. It is a tough job for one single family to install four satellite dishes serving only one satellite receiver.  It is a difficult job for the subscribers living in one building to share the four satellite dishes over a bundle of coaxial cables. Internet is the top priority demand on this planet.  If there is GPON fiber to each subscriber, Greatway Technology makes this job easier at affordable cost. This proposal gives the solution of 4 satellites selected most popular FTA or encrypted contents FTTH to about 2800 GPON ONU subscribers.
Satellite Transponders Edited by dCSS LNB at static mode
Each satellite has about 10~96 transponders.  20% contents are popular in 80% subscribers. To save each FTTH home cost, we just pick 32 popular transponders (32 User Bands) from each satellite to all GPON homes.  To do this, we need 4pcs dCSS static LNB with the selected 32UB of each satellite. (We recommend to use Inverto dCSS LNB and SatPal or similar products. Greatway can supply the dCSS LNB with fixed static 32UB output if we know your satellite name and 32 desired transponders either in Horizontal or Vertical).
DTT is offered by a few operators in the city and the DTT transmitting towers may stand in different locations of the city.  The DTT signal next to DTT tower might be strong to enter TV set directly.  To avoid the same frequency interference, it is recommended to convert all DTT carrier frequency before the optical transmitter Terr TV input.  In this project,  there are 3 Terrestrial RF carriers: VHF7 and UHF32, UHF36.  We suggest to use one GTC250 terrestrial TV frequency converter to have the following new Terrestrial TV frequencies: VHF8, and UHF33 and UFH31 (Due to the PAL-B/G standard and DTT signal features, we recommend VHF to VHF and UHF to UHF conversion).  GTC250 has four VHF/UHF inputs and one up to maximum 32ch DTT RF output.   1pcs GTC250 can output clean high quality 3ch DTT RF (each at 85dBuV RF level) to the optical transmitter, filtering or blocking 4G and 5G mobile signals.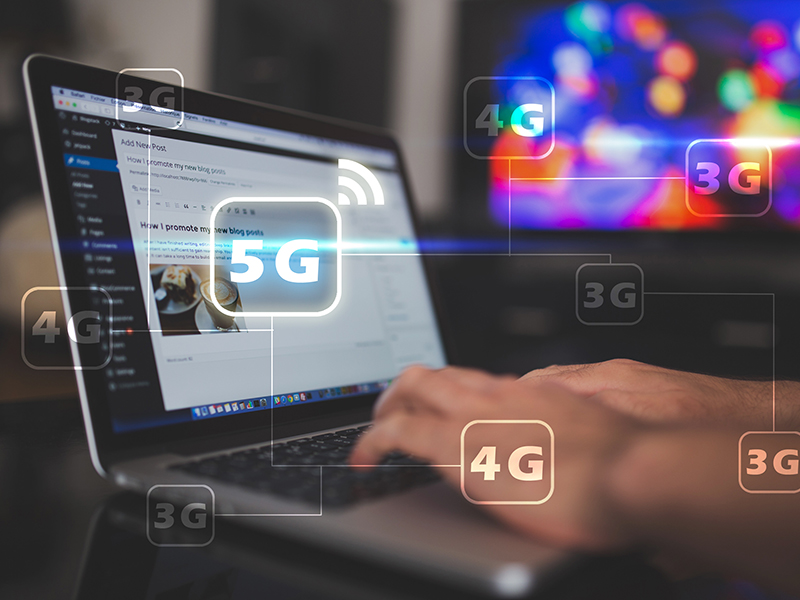 1pcs GLB3500M-4TD DWDM optical transmitter receives 4x32UB satellite inputs and one DTC250 terrestrial RF input, converting all of them over 1550nm DWDM SM fiber.
GLB3500M-4TD optical transmitter should be installed indoor. The RG6 coaxial cable to each dCSS LNB length should be less than 50 meters.

Since all 2800 GPON subscribers are grouped by 1x16 splitter, there are at least 175 groups.
GLB3500M-4TD has about +9dBm output power, which shall be followed by 1pcs 1x4 PLC splitter first. Among the 4 splitter outputs, 3 splitter outputs are connected with 3pcs high power GWA3500-34-64W respectively. 1 splitter output as standby port.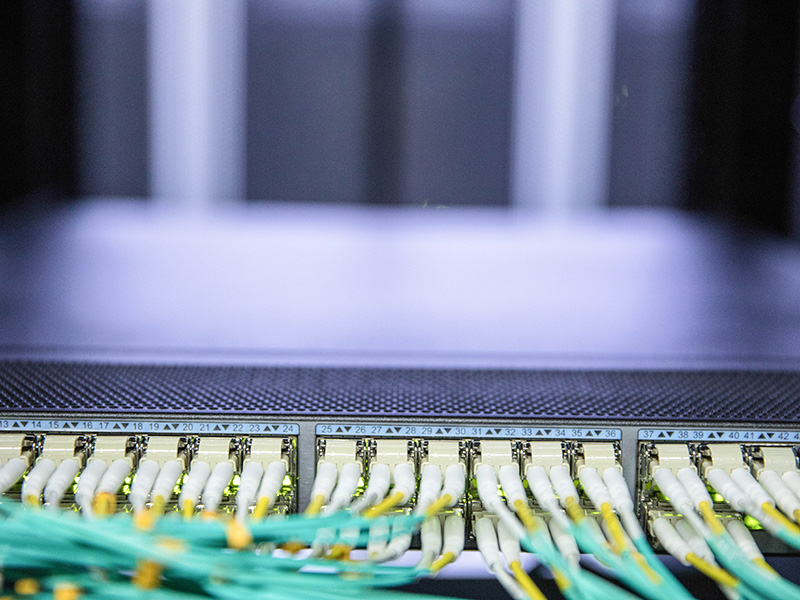 Each GWA3500-34-64W optical receiver has one 1550nm optical input, 64 OLT inputs, and 64 com ports, where each com ports has >+12dBm@1550nm. Each com port is connected with 1x16 PON splitter, offering both sat TV and GPON Ethernet.
GWA3500-34-64W optical amplifier should be installed next to GPON OLT or close to the fiber cable hub. 3pcs GWA3500-34-64W optical amplifiers have 192 output ports, besides the 175 connected ports, the unused ports as standby ports.
The former GPON system should have 1x16 splitter installed. We listed them in the BOM if you need 1x16 splitter.

Optical Receiver and GPON ONU
At each GPON ONU, we suggest using one SC/UPC adapter and 1 meter duplex SC/UPC to LC/UPC jumper, where 1 fiber converts the incoming SC/UPC fiber to LC/UPC to GLB3500M-4RH4-K optical LNB and the other converts the loop out GPON signal back to SC/UPC to the existing GPON ONU.
GLB3500M-4RH4-K has four RF ports, each RF port offer 4x32UB satellite contents and terrestrial TV. If there are more than 4 satellite decoders at each GPON ONU location, each RF port of GLB3500M-4RH4-K can be connected by one 4-way or 8-way satellite splitter to support 16 or 32 satellite receivers, where the satellite splitter has one RF port pass DC only. The satellite receiver connecting with DC passing port selects 1 of the four satellites, the satellite receivers connecting at no DC port watches the selected 32UB satellite contents.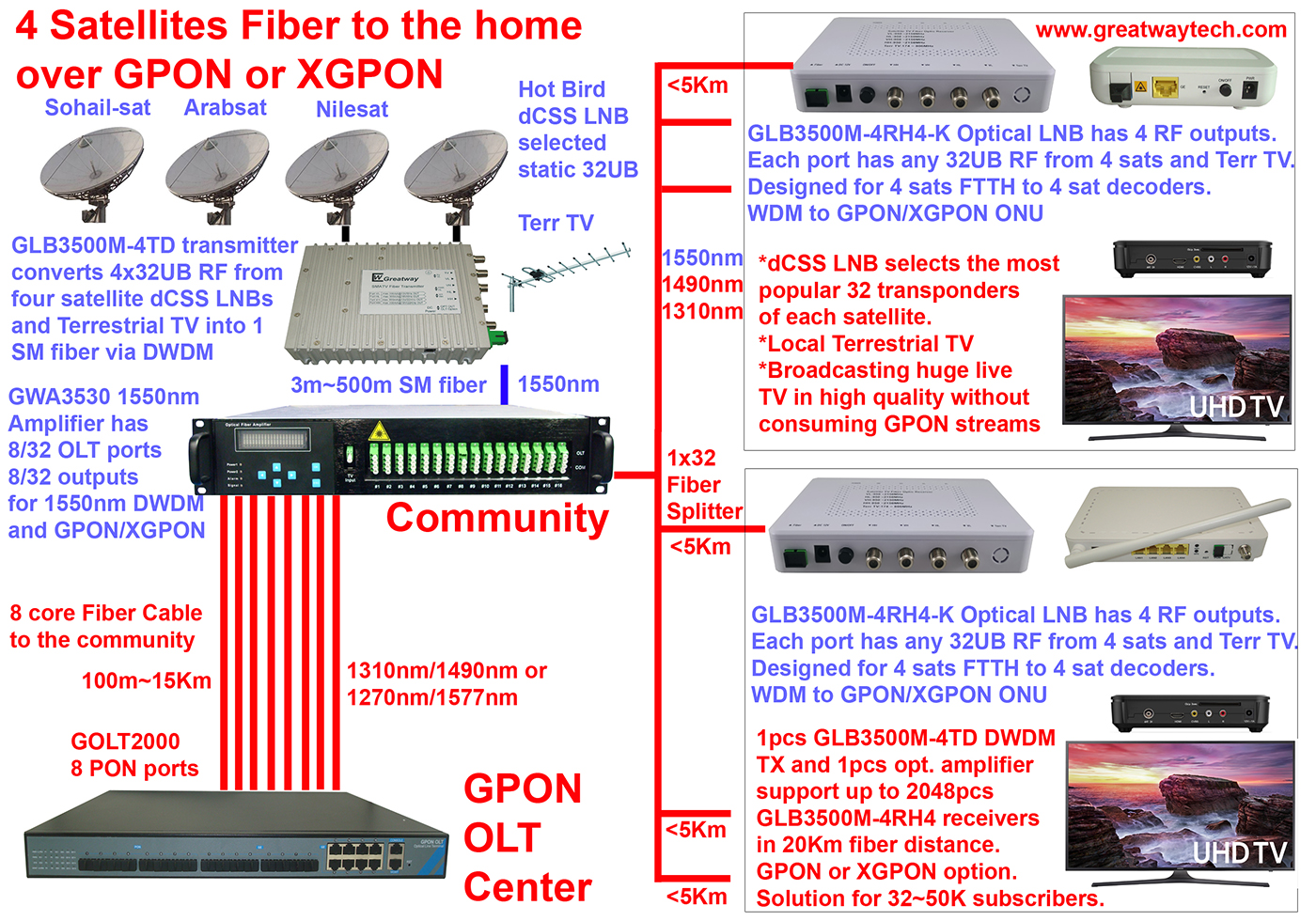 Regular satellite receiver supporting multi satellites contents search can watch all FTA contents and encrypted contents with CA card.  No unicable function requirement on the satellite receiver.
Due to the high density EYDFA, we might use LC/UPC connector instead of SC/UPC connector.  There should be some jumping fiber patchcord such as LC/UPC to SC/UPC or LC/APC to SC/APC.
For full information, please check the pdf file or contact Greatway Technology.